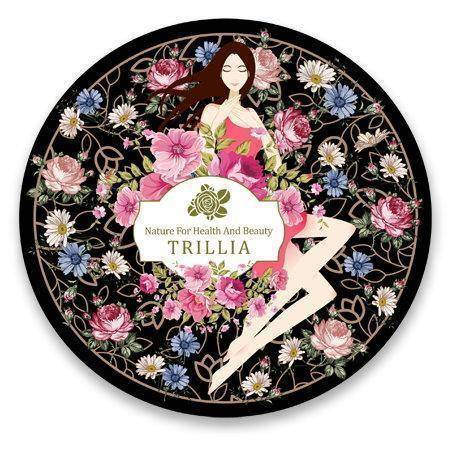 Concern for life, so we love nature
We love nature because of the deeply care for life and the worry of the earth, Trillia has insisted on

designing, manufacturing and selling more natural products that positively contribute to human health and

beauty for many years. We hope to bring happiness to you and your family through a purer nature, and

make the earth more environmentally friendly and beautiful.



More persistent than others because the love of nature

Our product development and design is to make our loved ones and friends healthier and more beautiful.

Therefore, we insist on using natural flower and plant extracts as the main ingredients of our products. At

the same time, we do not use materials or ingredients that has potential risks to human body, or has possible

relation of serious diseases and cancer.
More attentive because of persistence
In addition to the high use of natural materials, we also use a variety of traditional production methods to

replace the hazards that may be caused by hazardous ingredients and manufacturing processes. At present,

our factory can perform a wide range of traditional methods, including cold-press extraction, distillation

extraction, brewing, Saponification, extraction, molecular adaptation... etc.

Research and development on the application of natural herbal and plants essence
Trillia has been committed to the research of natural flower and plant extracts for many years. We are based

on plant bodies, essential oils, and hydrosols. Through continuous experiments and data accumulation, we

adopt scientific methods to develop various life applications with herbal advantages. We look forward to

improve and benefit your body, mind, spirit, in a more natural way with safety and efficiency and without

side effects. We hope it can also make your life more healthy, happy and beautiful.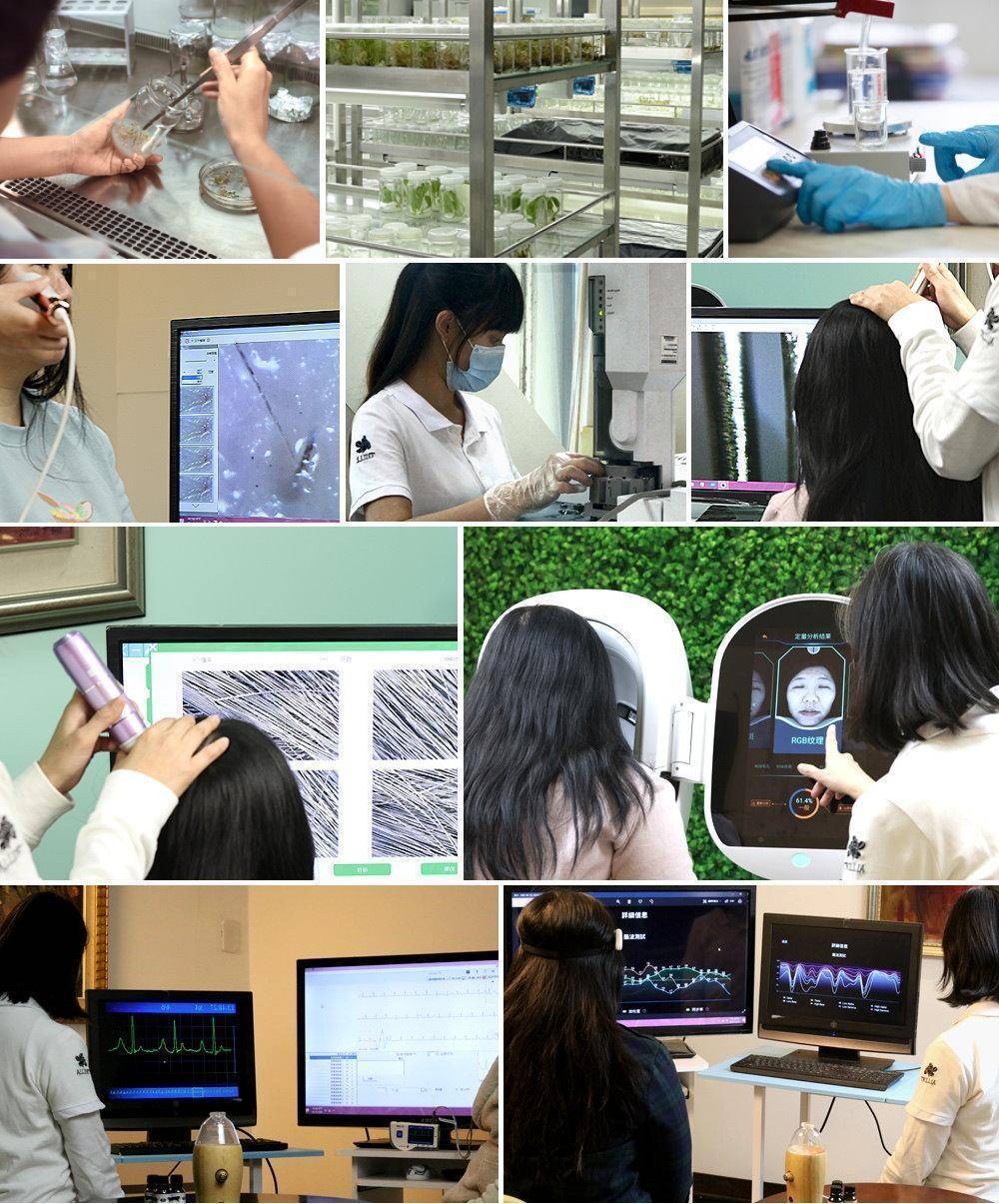 Organic agricultural certification
Trillia has Taiwan and EU double organic agricultural products certification license .While implementing

the most stringent organic standards, we are more concerned about organic spirit. Therefore, we adhere to

the principle of sincerity and pragmatism, and spend most of our product budget on the procurement of

high-quality raw materials, and abandon the expensive, gorgeous and beautiful packaging materials. We

also rejects fancy and exaggerated marketing method or speech. We are pragmatically implementing the

natural traditional production methods that most manufacturers are not willing to adopt, and which are

time-consuming, labor-intensive and costly. We sincerely hope that through our efforts, we can bring you and the global environment more healthy and beautiful.
EU Organic Farming Certification
NO: TOC-EU-1903001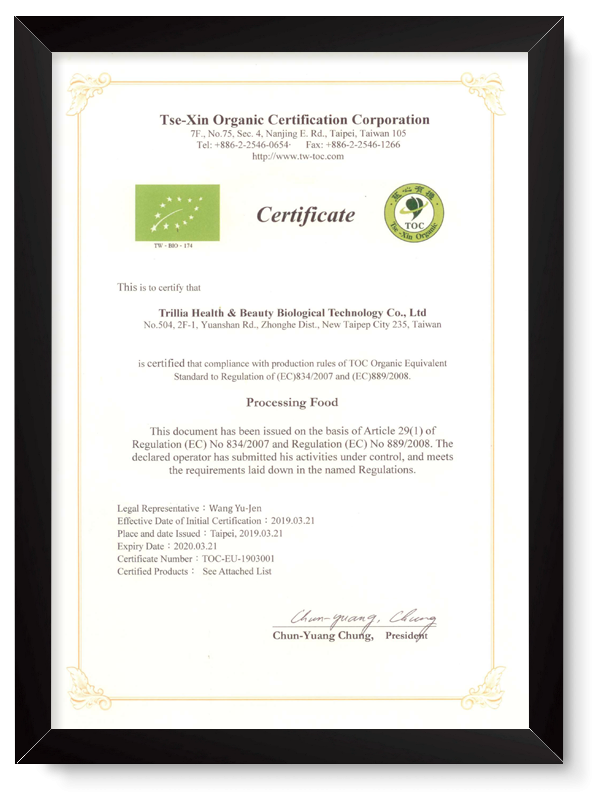 Taiwan(R.O.C) Organic Farming Certification
NO: 1-009-210186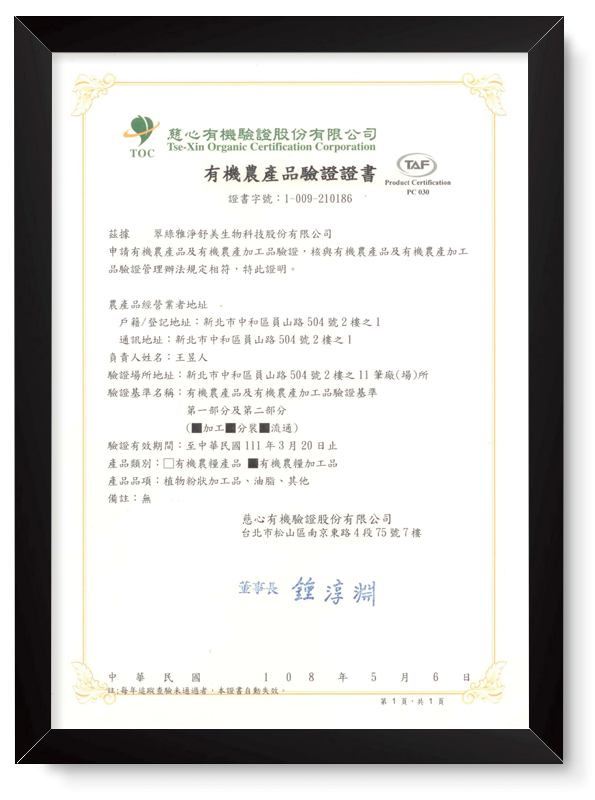 Sales License of Taiwan(R.O.C) for Drug Dealers
NO: 623104K267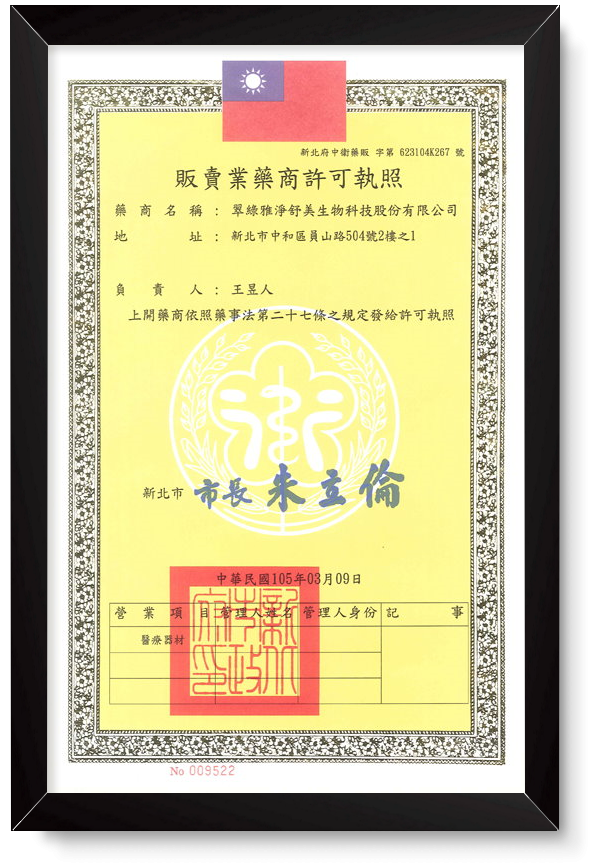 Factory Manufacturing license of Taiwan(R.O.C) for Cosmetic And Cleaning Products
NO: 623104K267